What Can Rocktape do for you?
What is Rocktape?

Rocktape is a type of Kinesiology tape. Rocktape can be used for many purposes. Most people think it is only used for Athletes, however it can be used on just about anyone depending on what it is being used for. Rocktape can be used to apply compression to an area, to promote recovery or it can be used as a decompression, to relieve pain and even swelling.
How it works...
Rocktape is designed to intercept the signals from the area of pain to the brain. The tape is applied over a stretched muscle. The tape pulls up on the skin creating a better ability for the muscles to move which reduces fatigue. The process of lifting the skin also accelerates and increases blood flow and oxygen to the area of concern. Rocktape can also be put in an area that has edema and swelling and promotes lymph drainage to remove toxins that are produced by the body.
Fun facts about Rocktape...
* Rocktape has a strong adhesive which helps it stay on longer. However, Rocktape also provides a sensitive tape for those who have sensitive skin.
* Rocktape is not like conventional tape. Conventional tape or athletic tape prevents movement. Rocktape allows for full Range of Motion in the area that is taped.
* Rocktape can last a few days and can even be wore in the shower and get wet!
* Rocktape is latex and zinc free!
What can Rocktape be used for?
Rocktape may be used for many things:
* Helps with rehabbing an area of the body to help support.
* Helps with reducing edema and swelling in an area.
* Helps with keeping and supporting good posture.
* Helps reduce pain in the area of concern.
* Helps with many things that coincide with Pregnancy: carpal tunnel, swollen feet, rib pain, and a belly belt (just to name a few).
*Helps with stabilizing an neck and muscles after a whiplash and promotes rehab and reduces pain.
Who offers this?
Dr. Caitlin Walter offers this at Purvis Chiropractic. She is certified in FMT 1 & 2. FMT stands for Functional Movement Techniques. Dr. Caitlin also loves all the different colors and patterns that Rocktape offers. She has some for the adventurous people and some who want a normal color such as black or beige.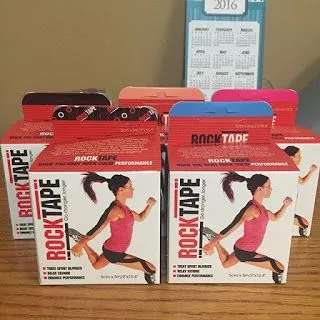 If you would like more recommendations for how Rocktape may be able to help you personally. Come on into Purvis Chiropractic for a consultation!